Margaret Mwanakatwe was already in her office by 8:30 AM on Tuesday morning of the 28th of May, interacting with some journalists who came early for her press briefing that was scheduled at 9:00 AM.
She actually didn't know she was 30 minutes early for her briefing, and journalists couldn't help it but wonder why the ever busy Minister of Finance was this early for this particular briefing, she always came for such assignments 40 minutes later when early.
It was also difficult to say exactly why the briefing was called for in the first place because there was nothing within the public eye that needed urgent address, apart from the story of government taking over Vendatta KCM mines on the Copperbelt.
"In view of the prevailing economic environment the country is going through, the president called for an urgent cabinet meeting to decide on measures that the country must undertake to restore the macroeconomic stability and restore debt stability in the country," Mwanakatwe said.
So everything was known the moment she finished saying her first sentence; the briefing was about Zambia's debt, forget macroeconomic stability that she first mentioned, we all know once a country is debt free then chances are that its macroeconomic stability come almost naturally.
Government was finally willing to discuss about its debt to the press and through the press to the Zambians, this was certainly news.
For the first time, the Finance Minister was frank enough to say government had accumulated more debt than at any time in the previous years and went on further to reveal that the current debt stock was way too high for the country.
Mwanakatwe has earned herself a reputation for being vicious and protective whenever asked about Zambia's debt situation, and in honest, she rarely answers these questions from journalists and when she does, its tempers all over.
In fact, it is this unwillingness to talk about Zambia's debt that makes it difficult to even know the exact amount of debt the country has, which explains why others say the country's external debt alone is over 40 billion dollars while government sources will tell you it's only around 10 billion dollars.
Not anymore or at least not with the recent briefing, Mwanakatwe took time to reveal that Zambia's current risk on debt was high and that there was need to bring it to moderate risk of debt distress.
The Minister also disclosed that government would postpone contraction of new non concessional loans as well as cancel some contracted loans not yet disbursed.
Great recommendations from the minister and cabinet at large, but wait; someone said these measures before, someone holding a ministerial position talked about the same solutions in a press briefing like that one, yes, Felix Mutati.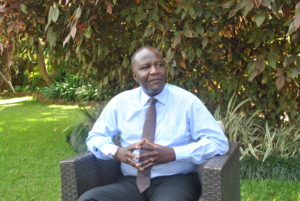 Felix Mutati, then Finance Minister some 16 months ago embarked on an Economic Stabilization and Growth programme which was loosely referred to as 'Zambia Plus'.
In fact, all the solutions that Mwanakatwe presented were purely a brain child of Mutati and one cannot help it but wonder why these solutions have been summoned today way after its proprietor had left office.
Economic commentators were also left wondering why government departed from Zambia Plus in the first place, given the fact that at the time the initiative was launched, the debt was not as high as it is today, numerically at least.
"Why the government of Zambia departed the Zambia Plus initiative remains a wonder, we can only pray that these Cabinet decisions are not too little too late given the current amount of debt the country has," Hakainde Hichilema said.
Mr. Hichilema, who is also United Party for National Development (UPND) President said it was still not clear whether these same solutions will be followed this time around when they could not be followed then.
He even went a step further to suggest that debt repayments were proving difficult because borrowed money was not being used in sectors that were of economical merit.
One interesting thing about the whole debt and debt servicing debate though, is the fact that government is not precise enough in stating the exact debt burden the country has.
Nevertheless, its still interesting that everyone now knows that the country has high risk debt which is unsustainable and we know that 55 percent of Zambia's GDP was occupied by debt thanks to International Monitory Fund (IMF) Report on Zambia, perhaps it's about time government go on further and clearly tell the nation the exact amount it owes, because as it is, no one seem to know the exactly truth, except maybe, those guys who had an urgent cabinet meeting on Monday.