Ideally, ideological differences determine the political affiliations of individuals in a democracy. However, in Zambia, there is always an incalculable predicament, circumstances an individual finds him/her not sure of their determining political affiliation.
But given the difficulty of figuring out just what exactly one's circumstance is in order to make a decision, Zambia's political system is full of drama and misjudgments just for everyone to see.
The country's democracy is merely about numbers, never about ideologies, in fact, several political leaders have been quoted reciting this phrase proudly.
In truth, democracy is indeed about numbers, but numbers brought together by a similar ideology. Because of the mere belief that democracy is about numbers, what separates or brings together Zambian politicians remains vague, at times unknown; just a matter of speculations, while some in some instances it directly points to self-interests.
'Politics is a dirty game,' in Zambia it may be called the dirtiest game, as betrayal and deception is the order of the day.
The belief that democracy is about numbers has seemingly overshadowed the fact that equally cardinal to this practice is an ideology that is a key factor that should unite or separate politicians.
A political ideology is defined as a coherent set of ideas on how people should live together. It also includes a plan of actions for applying these ideas. Read more about Political ideologies here.
Nevertheless, political regalia better identifies Zambian politicians as one may be dressed for this political party today, abandon it the next day, and back to it the following day, so better believe one in whichever regalia they don.
And in recent years, Zambia has witnessed several such dramatic movements of politicians across political parties that have left everyone wondering as what democracy really was.
Not drawing directly to the recent "GBM you" case that made every social media enthusiast become a political analyst, there are other cases that are equally inconceivable.
In 2016 Miles Sampa, now his worship the mayor of Lusaka, quit his Deputy Ministerial position in the Patriotic Front(PF) as he cited corruption and dishonesty in the party to be the reasons of his decision.
"My decision came about as a result of the intolerance, hate, vengeance and violent conduct towards party members; including those who supported me at the Kabwe convention in 2014," Miles Sampa said.
He added that PF's looks and conduct reminded him of the dethroned Movement for Multiparty Democracy (MMD) of 2011 that instilled fear in the general public, as a result, he chooses to disassociate himself from such a grouping and wished them well.
After leaving the party, he went on to form the Democratic Front (DF) party that got entangled in ownership wrangles, eventually forcing him to change its name to United Democratic Front (UDF).
Sampa's efforts to strengthen his UDF proved to be a high mountain to climb, and eventually, he ate a humble pie, returning to his beloved PF like a prodigal son.
Drawing now to the "GBM you" case, by Geoffrey Bwalya Mwamba, former Minister of defence in PF government and of recent, former United Party for National Development (UPND) Vice President, GBM as fondly called in political circles.
His case began with rumours alleging that the former UNPD Vice President was bought by PF to ditch his position and further destabilize party structures.
GBM blatantly dispelled such rumours in all totality and he went a step further, describing PF as a 'sinking Titanic'.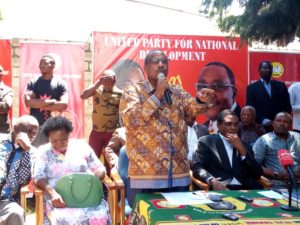 "I am UPND, I will remain UPND and I don't see anything that will make me leave the party. I know that the only credible leadership is UPND under the leadership of my brother Hakainde Hichilema," Mr Mwamba said.
GBM, however, resigned barely two weeks after suggesting that he would not quit UPND and headed back to PF.
According to reports, such as from the Lusaka Times online, Mr Mwamba said he was left with no option but to rejoin the ruling Patriotic Front. He said he felt sidelined by the UPND who allegedly stopped involving him in decision making of the party.
Upon leaving the UPND, he also vowed to dismantle the party and promised to embark on a countrywide tour to de-campaign the party and further discourage his supporters from supporting it.
The list of defections to and from is endless; Mulenga Sata from PF and back, Silvia Masebo talking ill of UNPD and finding herself there, Antonio Mwanza and the bad blood with PF but later joining it and a dozen other similar cases. what can be deduced from the Zambian political system really, is that ideologies never matter.
Politicians are moved by their circumstances and looks of the environment, as a result, they camouflage like chameleons to suit surroundings for survival.
But as seen from the continued back and forth movements of politicians across political parties in the country, democracy of ideologies is superior; it guarantees dignity, as opposed to trying to read the environment, which is never accurate most of the time, before making a decision of whether to belong here or there, a practice that has brought many to shame.