While most youths in the country use Information and Communication Technology (ICT) for social media and online gaming, ICT offers more opportunities that could accrue financial benefits to users.
One way ICT could be exploited is by using its offerings to innovate products beyond loading pictures and chatting on social media.
According to a 2015 survey by the Zambia Information and Technology Authority titled 'Access and Usage of Information and Communication Technology by Households and Individuals in Zambia,' 70 percent of internet users in Zambia are youths.
And this usage by youths is mostly attributed to social media usage and other forms of entertainment with innovation rarely in a big picture.
However, one Zambian youth, Reagan Tembo, a vibrant Zambian youth has found a way to delve beyond the expanded horizon of ICT as an opportunity for self-employment.
Born and bred in Lusaka, 22-year-old Tembo, who is dubbed 'Zed Genius', is using the internet to invent incredible devices and using his creations to make a living.
Speaking in an interview with the Lusaka Star online magazine, Tembo explained how he used to make a living using his creations and how he has always been interested in inventions even from a tender age.
"My first great innovation was the phone that I invented using a small speaker and microphone which could communicate at a short distance without the use of airtime," he said in an interview.
Tembo's life has always been one of being creative and self-reliance. "I used to sell my art models to pay for my school fees and cater for my other basic needs because my parents were struggling financially," he said.
However, the 'Zed Genius' explained that it was after he completed his secondary education that his use for ICT sprouted.
He also said it was his sister who convinced him to present his invention to people which helped him get an audience with managing directors at the Zambia Information Communication and Technology Authority (ZICTA), who were instantly impressed by the invention and asked him to present it at the 2015 Trade Fair.
Furthermore, ZICTA decided to sponsor him to pursue a two-year programme of Information Technology at the Zambia Institute of Technology (ZIT).
While at ZIT, Tembo invented another device called 'Polani Health Care', an android device that reminds people on long-term medication to take their drugs on time and also take the right dosage.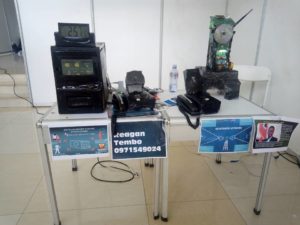 "I was inspired to invent the device after my grandmother, who had a chronic illness, died due to medication overdose," Tembo explained.
He said the device also has drawers on it that contain the medication, a water dispenser and it can also call the user's phone to remind them to take their medication on time.
The Polani Health Care device was also presented at Youth Konnect; a conference in Rwanda where Tembo went to represent Zambia and came out as the 'Best Innovator in Africa' and went even further to represent Zambia at World Skills in Abu Dhabi, United Arab Emirates (UAE).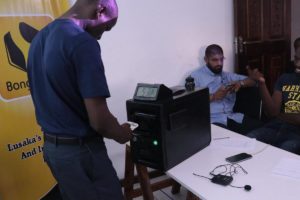 Tembo explained that at the World Skills, he was put under the manufacturing team and competed against 20 countries and invented a robot whilst working under his team who received the award of Best of Nations.
After the World Skills, Tembo got employed by ZICTA as a business technology assistant and has been there since then (2017).
Although currently working for ZICTA, the 'Zed Genius' is also a CEO of his company 'Cyber Polani' that creates tracking devices for households, vehicles, phones and many more.
One of the famous devices created by Cyber Polani is the Zed Tracker, a tracking chip with the ability to text back the owner in case of a theft.
Tembo is by far one of the most inspiring youths in Zambia who have used ICT for its greater purpose, hence, looking at how important ICT is to Zambia and the world at large, youths can emulate him to transform the country's ICT sector, therefore bringing development by exploring the many opportunities presented by the innovation.