Not everyone in this life gets to have their height of choice. Generally, short people get a lot of ridicule if not scorn for their height. At the highest learning institution, you will come across one of the shortest students proud of her height.
It is obvious that she's an academic genius! And if you think you cannot be an achiever because you're differently abled or otherwise, then it's about time you considered the shortest student at Zambia's best university.
Natasha Mwila Mulenga is conspicuously the least tall student at her alma mater, the University of Zambia (UNZA), where her best friend, Thelma, affectionately calls her "my child," because she normally has to act as an extension of Natasha's height.
Not like the average or medium one found on the streets or at political rallies, Natasha's height is, clinically speaking, a special case. This actually explains why most people have to look a second time when they see her, just like the white woman who once remarked that "you are so unique!", when she bumped into her at a popular mall in Lusaka.
Her height and its intricacies, of course, is an issue of biology; but while her height astounds people like an Egyptian pyramid, Natasha exudes a saving grace which is even more perplexing—she is academically smart!
Incidentally, my random interviews with Natasha's colleagues defy her intellectual abilities. Most of her classmates, like Thelma herself, candidly state: "she is more intelligent than me."
Even though she doesn't move around flaunting bright spots in her academic trail, it is no secret that she was lethal at history and physics back at Katondwe Girls Missions School, a fact illustrated by her award as the best pupil in the named subjects in grade 10.
Considering that Natasha's height always proves to be a marvel wherever she goes, I took the initiative to corner her at UNZA and ask her to grant me an interview.
The last born child of Godfrey Mwila—dad's very baby—and the favourite student of the late renowned don Professor Francis Chigunta, readily agreed.
Natasha was born a very small child to Godfrey and Christine Mwila, a fairly well-to-do Lusaka couple, on 4 October 1995.
Upon giving birth, interestingly, Christine had inkling that her new baby would be different and as such, conferred the name Natasha to it with the meaning that she was still grateful to God.
In 2003, Christine died, a "domestic disaster" that Natasha regrets but one that Godfrey inadvertently sought to alleviate when he transitioned into a new marriage with Chanda Chifwembe, a woman who has never made a fuss about Natasha's height.
Just like his late wife, not to mention Chanda, Godfrey discloses that Natasha's height is no trouble: "She grew up to something like 3 or 5 years before I realised that she was shorter; but nothing went through my mind. There was no drastic reaction."
Currently engaged with the Ministry of Agriculture, Godfrey is himself a 1982 agricultural science graduate of UNZA, the very university where Natasha becomes the third in the family to study. Kayula, Natasha's sister, passed through UNZA second.
Emerging with 9 points from high school, which itself is no feat to sneeze at, Natasha entered UNZA in 2014 to study development studies under the financial support of her father.
For her, 2014 was a year to get riotously nervous, as she thought everyone at UNZA would laugh and poke fun at her; as a matter of fact, her sister Kayula states that Natasha had to visit a counsellor to get the right dose and suitable aura of self-esteem.
In a university of over 25,000 students, the counselling must have done the trick.
"I do not feel bad about my height; I am so happy about it. I have accepted it. It is God's will," Natasha said.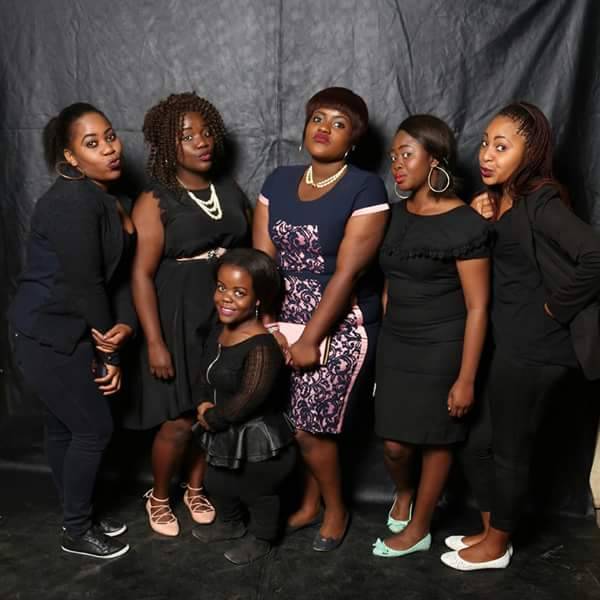 Whereas primary school saw her cry when classmates called her a bushman, UNZA gave Natasha the late Professor Chigunta, who always called her out to sit in front ahead of a development studies lecture.
Inspired by her father and Nicholas Vujicic, the Australian evangelist who has no limbs, Natasha has found UNZA intellectually challenging.
It is at UNZA that Natasha has had to put some students of different height in their place, as Mr Roy Kalinda, her one-time lecturer, suggests: "She was one of my most hardworking and intelligent students. She is among those doing very well."
She says though she cannot reach the top of a wardrobe, she can, like everyone else, tackle any academic task.
Though a fashion junkie fond of high waists and dresses, Natasha still has to deck herself out in outfits that fit well on children her size.
She may not have the height, yes, but Johnson, one of her closest UNZA friends, thinks she has a great body, like the one traditional doctors claim can be induced in women.
"Natasha has got 'market'", her best friend reveals.
She has at one time or the other been dating. Besides, her last relationship ended last year, her friend added. Thus settling the question: does she have attraction to the opposite sex?
Aside from that, I can bear witness that Natasha abounds with knowledge on dating, football, history, politics and is a staunch Catholic herself.
In a world where people use their physical inadequacies to solicit pity from everyone around them, Natasha's tale undoubtedly stands out as an exception, which is why scores of people walk up to her just to say: "you inspire me!"
She will this year graduate from Zambia's most prestigious university. And if she continues on her current academic trajectory, getting a first-rate degree won't be beyond the realms of possibility.
But there are many things that Natasha herself does not want to change, and one of them is: "my height!"