Ben Mulamba is a 52 year old man living with disabilities, and he is speaking out on society's negative perception that disability is inability. Mulamba, who lives in Garden House, said that he was born physically fit but he became handicapped when he turned seven years old.
A lazy man should not eat including the handicapped

Ben Mulamba
Mulamba realized that it's possible for people to forsake you, including family members, and that led him to setting up a business in 1986, when he was 34 years old. He now sells honey along Cairo road.
"I am one person who doesn't like begging for arms from people including relatives. It was because of my inclination that I decided to start up a business so as to find means of surviving,"

Mulamba said.
He further said that he has been selling honey to people for over 5 years so as to run his house hold and finance his children's tuition fees.
"I'm a father of 5 children, who are all in school. My first born is a girl doing grade 11, the second born is in grade 8, the third born grade 6, fourth born is in grade 4 and the last born is in grade 2,"

Mulamba said.
"It is through my honey business that I manage to accommodate my family with all necessary basic needs."
He further said that it is not easy for a person with disability to run a business because of the challenges that come with the inability to walk. Mulamba also said that with the support of his wife, who usually drives him to his work place, he's able to go to his business site every day without any failure.
He added that he wants a good life for his children which is why he's motivated to go for work on a daily basis. Mulamba has advised other people living with disabilities, especially the handicapped, to start a business because relatives will not always come to their aid.
"Despite your predicament, always have faith that you'll be somebody in life because people will not manage doing everything for you, for the reason that, they are only humans who are bound to error,"

he said.
Mulamba however, has appreciated everyone that has been supporting his business in different ways. He said that begging should not be considered as a normality among the handicapped.
"Even the bible says that a lazy man should not eat. The best way is to accept your situation and that will help you work extremely hard,"

Mulamba said.
Mulamba said he is now building a house and he would appreciate if any well-wishers boost his business so as to give hope to other people living with disabilities.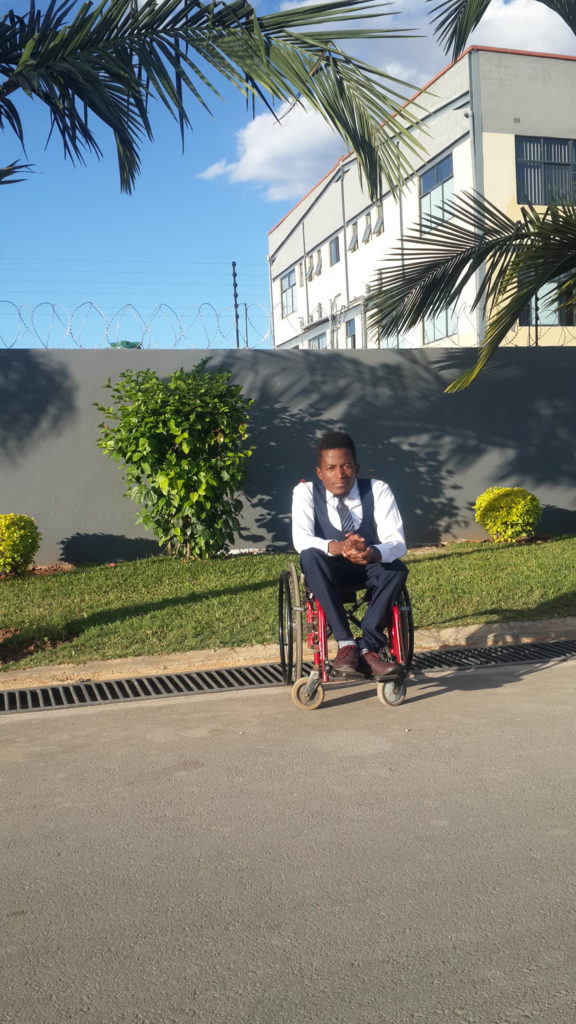 Meanwhile, in an interview with Lusaka Star, a 4th year handicapped Law student from the University of Lusaka (UNILUS), Chama Chansa said that being disabled comes with poverty because one is unable to fend for themselves and would rather depend on people for everything.
Mr. Chama said that nowadays, there are a number of people with disabilities that are doing well in the world of business despite society's negative perception.
"Things have to change with the way society deems the physically challenged in terms of looking down on them because the disabled have their own strengths and weaknesses,"

Chama said.
He adds that most people with a disability use their strength to come up with innovative business ideas and start up a business.
Just like Mr. Mulamba, Chama wasn't born handicapped. However, he suffered an illness in 2005, which led to him becoming a wheelchair user.
Chama, who is also an entrepreneur said that there are some activities he cannot do as an entrepreneur because he is limited in terms of movement which is more challenging.
He adds that there is someone who runs his errands for him, but it is because of his passion that he hasn't given up till date.
"Despite being handicapped and having a supportive family, I decided to become an entrepreneur at a tender age and I now run a company with some counterparts,"

said Chama
He further said, his company does not disturb his academic performance in that, he is in partnership with other individuals who carry out operations when he is busy with school.
Chama elaborates that he is the only person living with disabilities in his class at UNILUS.He tries by all means to create an enabling environment for people to know that even physically challenged people can do what an able bodied person can do.
He has further encouraged the physically challenged to do something that society will look up to and see the power that lies beneath a disabled person.