Barely a fortnight after premiering its first content on its third party channels, KWESE TV was officially launched in a colorful ceremony at Lusaka Polo club.
KWESE, Africa's newest TV satellite network offers over 45 channels in its bouquet including entertainment Channels plus two Free-to-Air channels which includes KWESE Free Sport.
The event which was graced by Minister of Agriculture, Dora Siliya as the guest of honor was characterized with several entertaining segments ranging from bouquet screen plays to musical performances by Multi-award winning afro-dancehall artist JAY ROX.
Speaking at the event, KWESE TV General Manager Kapa Kaumba articulated on the impact that KWESE TV network has brought to the Zambian broadcasting industry in particular.
"For the television industry this is an exciting perhaps encouraging time that the industry is evolving at a very rapid pace precipitated by the rapid rise and access to its content," Ms. Kaumba said.
KWESE TV Free-to-Air General Manager Tivo Shikapwasha emphasized what KWESE has brought along with it to Zambian soccer and sports fanatics it being the home of great former African champions such as Samuel Matete and many others.
"KWESE TV offers some of the world's best and most loved sporting leagues on our Free-to-Air Channel, KWESE Free Sport. We have signed ground breaking deals with some of the world's big right owners which has enabled us to provide the various sporting programs," Mr. Shikapwasha said.
Tivo Shikapwasha, son to former Information Minister Lieutenant Ronnie Shikapwasha is also a musical producer under the famous tag-line Honourable, having produced songs like Folo-folo by OC, Sulu's Rubbi, and Wonderful world by his superstar wife Salma 'Sky' Dodia.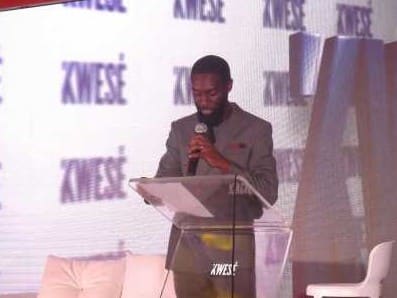 Also speaking at the event, ECONET President and CEO Joseph Hundah whose firm is a holding company for KWESE TV network expressed happiness over the new and exciting dimension that has been added to the local broadcasting industry.
"Our teams have worked really tirelessly to create what we believe is a real media business that will change the face of the media industry in Africa. We also have the KWESE App which I edge all of you to download to access our content," Mr. Hundah said.
And, just before his performance, JAY Rox thanked KWESE TV management for creating a platform on which local content can reach other 21 countries under KWESE coverage. He later rocked the evening with some of his latest songs from his new album.