Zambia is currently facing a housing deficit of about 1.5 million, and the number is predicted to double by 2030, mainly due to urbanization.
The country's urban population stands at 40.9 percent of the total national population, while the annual rate of growth between 2010 and 2015 has been 4.32 percent, according to the CIA World Fact Book (2017).
About 70 percent of the country's urban settlers have no access to decent housing infrastructure to umbrella the definition of a decent home.
To assist in addressing this problem, the Habitat for Humanity Zambia (HFHZ) supports programs that ensure that people have a decent place to live.
The organization focuses on improving the quality of life through the promotion, support and advocacy for social housing.
To spearhead this noble cause, recently the organization held a Bankers Build Event to help build a home for a vulnerable family in Lusaka's Chainda compound.
The initiative is a partnership with financial institutions that aim to build homes for various vulnerable families across the country.
HFHZ Board Chairperson, Brighton Phiri who was also speaking at the same event stated that eradicating housing problems would take collaborative efforts from the public and private sector players, communities and individuals in their own capacities.
He said the rate of urbanization which was at 4.13 percent with majority of urban dwellers living in sub-standard structures with poor sanitation.
"We as Habitat for Humanity Zambia advocate for affordable and decent shelter because we believe that by partnering with various stakeholders we can build homes and communities for our country," he said.
The HFHZ chairperson thanked Citi Bank and other cooperating partners for coming on board and showing concern for the lives of the less privileged.
Meanwhile, in a key note speech on behalf of Bank of Zambia (BoZ) Governor, BoZ representative, Namwandi Ndhlovu, said that beneficiaries of such projects are the backbone of the economy as there was always need to invest in the people of the country with the aim of providing solutions for proper housing and sanitation for vulnerable youths, children and the elderly.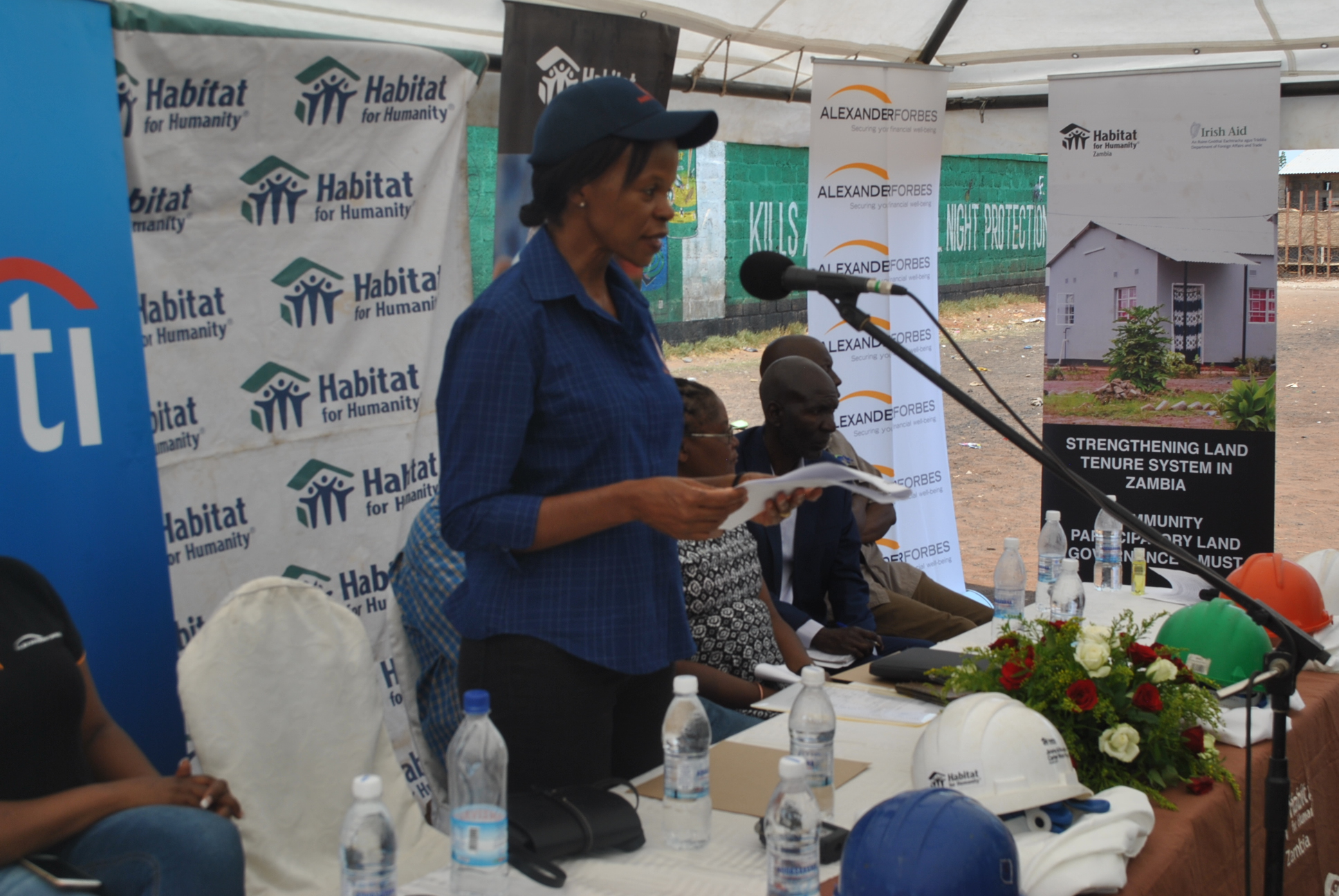 She said such projects were contributing towards the United Nation's Sustainable Development Goals (SDGs) one and eleven of ensuring vulnerable women and men in eradicating poverty and ensuring safe, affordable and adequate housing infrastructure by 2030.
"Decent housing, shelter is the gateway to economic freedom & sustainable development and therefore it must be promoted most of the times and at all cost," she expressed.
Ms. Ndhlovu said that a house was the greatest asset that one could have and that it made it possible for families to make resources which to some extent made the financial sector to thrive.
The Bank of Zambia representative challenged all financial institutions to tap into corporate social responsibility with HFHZ in order to change the face of the deplorable state of housing settlement in the country.
She however commended all financial institutions that joined hands with HFHZ to embark on this life changing opportunity for the one of the housing beneficiaries on the project.
The beneficiary of the housing project, Grace Mwila, a 45 year old widow of Chainda compound, in a near-teary manner, expressed gratitude to the overwhelming effort rendered by the organizations towards the project.
"I cannot give enough gratitude but may this noble cause be continued and may the grace of God be with all that rendered this assistance to my family," she expressed.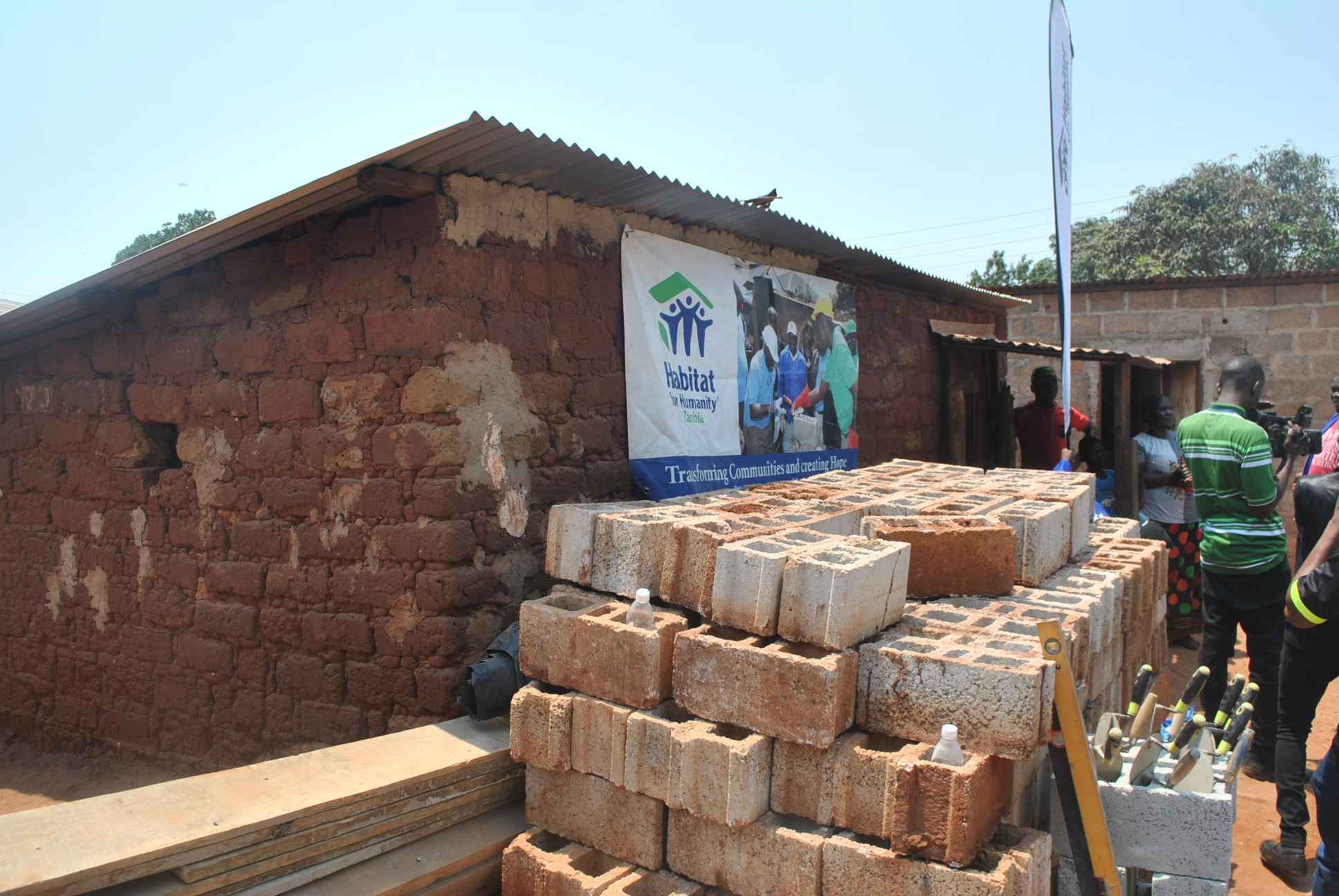 She further urged the institutions to continue uplifting the lives of the people as they were so many Zambians living under such deplorable conditions.
Grace Mwila lives with her six children and three other dependents in two separate structures; a two-roomed house and a single-roomed structure.
These living conditions pose unbearable challenges to her as she struggles to fend for her in terms of decent shelter.