We often hear about the need to help young people and provide them with education, support and guidance. But in the midst of such commendable, beneficial initiatives and discussion, we forget that young people are more than just observers and beneficiaries.
Sadly, teenagers and the youth are often portrayed as reckless, irresponsible and aimless when it comes to decisions and career path.
However there are a thousand of young people around the world who have the potential to become proactive and life changing entrepreneurs in society.
Meet Ellah Jere a second year student at the University of Zambia currently pursuing her Bachelors degree in Environmental Education who came up with an initiative that has changed the perception of creative entrepreneurship skills in our society.
Born and Bred in Kabwe, Central Province of Zambia, Ellah is the 1st born in a family of three.
Ellah did her primary and secondary level of education at Mable Shaw Secondary School in Luapula Province, a school that shaped her spiritual and moral charisma contributing a lot to her life.
Ellah is a fashion designer who came up with an organization called Gown of Hope, an initiative of making hand bags from plastic and has proved her creativity beyond par.
She says that the sole purpose of this organization is to advocate for a free litter Zambian community and it was established through a campaign called Beautiful Plastic campaign.
Drawing inspiration from her parents whom she says have been the golden thread of strength, have supported her throughout this initiative both mentally, morally and spiritually.
She specifically draws her talent from her mother who is an entrepreneur in Lusaka as well as the one behind the empowerment of the project through teaching her on how to knit and design hand bags from plastic.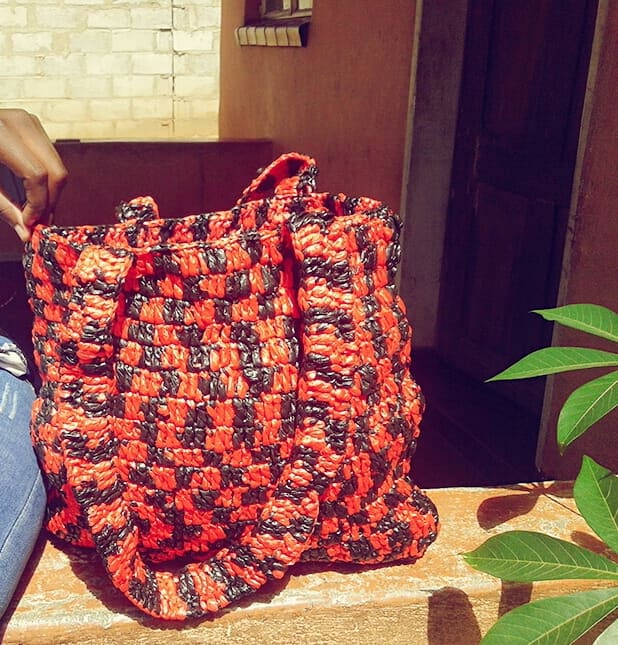 "It all began as a simple skill, interest and idea and I learnt to embrace it through just that," she said.
She says she fell in love with her talent because of her mother and the love for the environment which has greatly contributed to her achieving and growing it.
In her free time she reads and writes poems. She also cites reading being the fundamental contributor to her entrepreneurship skills. Ellah takes interest in local writers like Dario Chongolo an author who educates people on the importance of knowing their purpose as a woman.
"In his book Beautiful by Design he highlights and illustrates some of the key things to consider in order to understand your purpose as a woman," she said.
She says the writer explains why people should never judge a person based on character or appearance. Ellah says people must take their time to understand and embrace character rather than judge it.
Ellah also cites Benjamin Kantubiya as one of her favourite local writers establishing that as a people the writer focuses on the need to have our own identity as a society. She says the writer explains on the need of cultural and language identification as a society rather than copying what is not or does not represent our own.
"These authors help young entrepreneurs through motivation and guidance in this competitive world," she said.
In her creativity and innovativeness, Ellah also explains how this initiative has helped and benefited her as an individual. She says she has learnt to be patient and embrace time as a major factor of growth in becoming a better person.
She reckons that time is the most important factor in executing tasks and that every second that is taken advantage of can generate major achievements.
She believes that small avenues lead to bigger paths in life and no opportunity is unnecessary as it all counts. She says that as long as an idea is great there will always be support from anywhere.
She encourages her fellow youths, particularly young women of her caliber to embrace their skills and grow from it. She says that people must always start with what they have and get it going and other funds will follow.
"There must always be a foundation for anything and one principle is that every business must able to stand on its own and the rest will follow," she said.
Ms Jere says that one of her major achievements is the Musabwa USA initiative which promoted them as a lot people were watching. She also highlighted that apart from this, there have been other platforms like the previous 2017 national youth forum and young entrepreneurs and innovators exhibition which helped them showcase their skills and talents.
When asked what her major achievement would be, she chuckled and says that there is never enough to achieve and as individuals there is always a need to continue to achieve.