In 2014, a little-known Zambian songbird named Esther Chungu Mubanga was going places.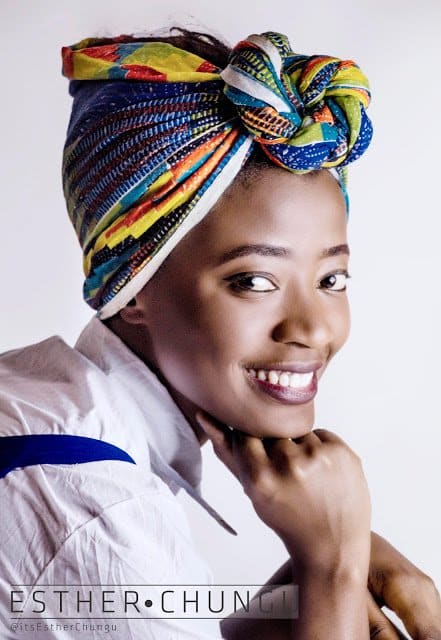 Her musical work had brought her to the attention Bittersweet management of Kapembwa Wanjelani and Enock Lubingu, who helped her get a step forward in her musical career, at this stage she had gone by the name 'Carmine.'
Seated in an inner circle of Artists at Bittersweet comprising of local heavyweights ranging from the Dynamic Poetic duo Jesse and MagniFaya to the Literary author that is Luka,she listened to and studied how they carried their stage presence and cultivated her own as she grew.
"I released my debut single, shooting star in 2014 and it was received really well by the masses," she Said.
Esther had released this single whilst still under the management of Bittersweet and under the name Carmine, which she later changed at the end of 2015.
"There is something powerful about our names , I think, something in the way God purposed our names to hold more than their meaning hence the change. I think it's about time I came out, yes, to be remembered for the work I did for God, by name and not some stage name.— I would like to help women tap into their potential and be who God wants them to be, to aim high, to work towards being a great asset to both the church and the world," said Esther.
Esther's statement was prescient. Fast-forward a year later and what had begun as a tremor has forged a seismic shift in the gospel music circles and in Zambia.
Esther left the Bittersweet roster to become her own artist and soon got acquainted with Steven Mwale, Head and founder of popular African Music website, itsretunes, who became her manager and introduced her to Magnus Mando, popularly known as Magg 44, who soon formed a super group and label named Brave only Music in 2016.
Esther went on to be part of this awesome collective and was the first on its roster to release an Album.
"I released my debut album in 2016 titled Mubanga, which is my surname.", she said. Mubanga was and is her first album to date, consolidating her place in the music industry and ending her anonymity and withdrew her from the table talk of 'when will she break out and release an album' that characterized her previously. What Esther will do next is anyone's guess.
Will she become a Mainstay in music for many years to come or find new ways to be an ambassador for effective change?