Barely few weeks after collaborating with South African kwaito singer-songwriter Busiswa on Savuka, Slap Dee has teamed up with old time music colleague Ruff kid on a song dubbed 'Fwaka'
The artistes put aside their old feud and made a banger track called 'Fwaka' which has received alot of reactions from fans and fellow entertainers.
Controversyly, the longtime friends on the song, talk about how inconsiderate upcoming rappers have become and exclaimed how the up and coming have not been acknowledging them as kings of Zambian hip hop.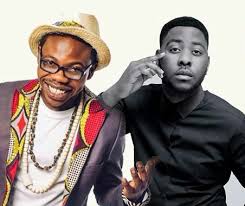 A few years ago, the hip-hop icons fell-off because of the claims by Ruff Kid that Slap Dee had stolen his concept of a song he dubbed "Talala" and changed it to "Remember" which had received massive airplay and continues to receive massive play till today.
The award-winning hip hop artist's single is one of the songs that have stemed from his next EP album called Mother Tongue.
The new single which also has visuals shot by No ID Pixel and directed by Emmanuel Chilala was produced by XYZ entertainment's Jorzi and Koby.