Zambia's upcoming music duo Muko and Ikko Ace on 9Th May 2019 launched their very first album titled 'Now or never' at Lusaka's Location Cafe.
Singer, Muko and rapper, Ikko Ace kicked off the show with a performance by the Angolan Prince and other hip hop artists such as The Fake, who warmed up for the main performance by for the host artists.
The album, which was produced by Shinko Beats consists of seven songs including their hit singles Finesse and Jealousy.
The duo opened their performance by thanking everyone for coming to support them and described their album launch as: 'Our first biggest thing.'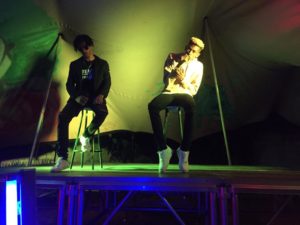 Muko and Ikko Ace, whose real names are Dominic Mukoye Kalebuka and Luke Mumba respectively, performed their songs according to how they were lined up on their album, giving insight on every song they performed.
The duo set the stage blaze with each song they performed, but the highlights of the night came when they performed the hit Finesse, enticing fans to request a second performance which they sang along.
The sixth song on the album titled Eight sent Muko to tears, having been inspired by the late Kapelembe Sikanyika, and the artist shared gave more insight on their music.
"We draw our inspiration from our background, we like music that is real, we have don't have time to talk about Bugatti's because we don't have Bugatti's but we talk about what we have and what we will have," Muko said.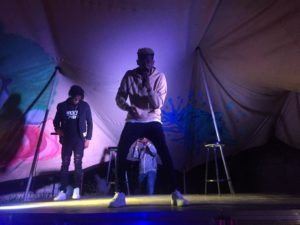 The singer further said after performing the song Inspiration: "Everyone has a person has struggles and not everyone is interested in knowing, thus the need to covert those struggles into hard work."
After performing all their songs, the duo premiered the videos of their two hit songs Finesse and Jealousy, shot by Red Horse Studios.
They also justified why most of their songs are sung in English, further stating that there were measures being put in place to balance the languages.
"We are more fluent in English but we also added some local language lines in order to reach the messages to everyone," the duo disclosed.
The artists were also supported by established artists namely; Dope G, King Illest, Young Verbal, Thugga and K million.