Ministry of Commerce, Trade and Industry Permanent Secretary, Mushuma Mulenga has thanked the Finnish Embassy for organizing an event that allows business engagements and network promoting linkages between impact investors and the Zambian Small and Medium Enterprises (SMEs).
Speaking during the reception for Impact Capital Africa: Zambia held at the Residence of the Ambassador of Finland Zambia, Mr Mulenga said Small and Medium Enterprises contribute about 70 percent of the country's Gross Domestic Product (GDP).
Mr Mulenga said government attaches great importance towards programmes that promote the growth of this sector.
He implored the Zambian youths to work hard and benefit from the collaboration between the Government of the Republic of Zambia and the Government of Finland that is working towards promoting the growth of SMEs in Zambia through the Accelerated Growth for Small and Medium Enterprises in Zambia (AGS).
The PS noted that AGS Programme was established in 2018 and will be implemented for a period of four years up to 2022 focusing on mitigating business challenges by offering improved technical, business management, innovation skills and the ability to access funding.
Mr. Mulenga further disclosed that more SME's will have improved access to markets, increased partnerships and business linkages for Zambian and Finnish companies.
And Finnish Ambassador to Zambia Her Excellency, Ms. Pirjo Suomela-Chowdhury, is elated that the Impact Capital Africa 2019 conference was a success drawing a wide range of investors, conference delegates and over 40 speakers.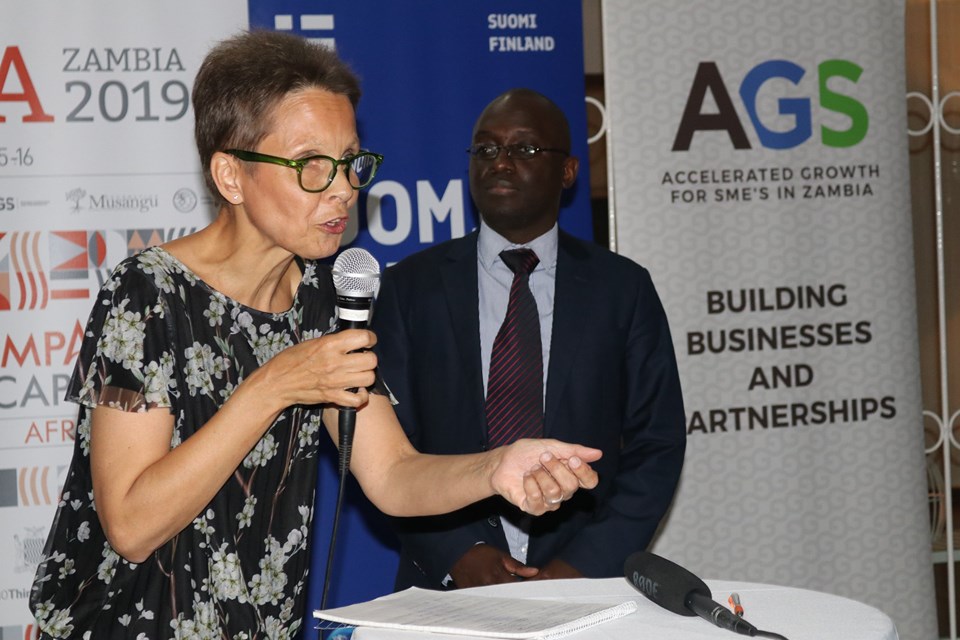 She stated that the focus of Finland in Zambia is to enhance business and trade relations with the private sector therefore, the conference has been a great platform for the creation of partnerships and growth of businesses.
Ms Suomela-Chowdhury noted with excitement that a number of Finland companies have shown interest in investing in Zambia because of the existing strong and long term relationships that have been formed between Zambia and Finland.
She urged SME's to seize such opportunities and contribute to the countries development.