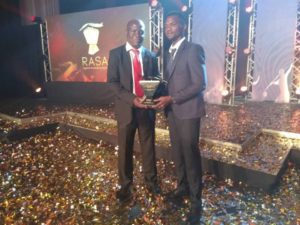 The Zambia Under-20 football team has scooped the Regional Annual Sports Award (RASA) for best sports team of the year 2018.
Team captain, Solomon Sakala of ZESCO United received the award on behalf of the team.
Other awards include; run-up in the category for coach of the year, where Beston "Quicksilver" Chambeshi who was nominated for winning the Under-20 Africa Cup and qualifying the team to 2017 World Cup in South Korea where Zambia emerged as quarter finalist.
And Zambia's High Commissioner to South Africa, Emmanuel Mwamba, commended the team for their achievements saying he was pleased that Zambia has begun to regain its past glory in sports.
Mr. Mwamba also urged corporate institutions to invest in sports to complement government's efforts and improve the quality of sports in Africa.
He added that more companies beyond mining and financial institutions should partner with government for financial support towards sports.
"Sport has the power to change the world, it has the power to unite and to speak to the youth in a language they understand," he stated quoting Nelson Mandela.
The regional sports awards started with nine countries that included Angola, Botswana, Lesotho, Malawi, Mozambique, Namibia, South Africa, Swaziland, Zambia and Zimbabwe.
Meanwhile South Africa's Sports Minister Tokozile Xasa said sports bring unity, and guarantee prosperity of African countries.
She added that sports will be one of the pillars that will help achieve the African Union 2063 development agenda.
The regional awards was held by the sports arm of the African Union, and the African Union Sports Council (AUSC) at the Birchwood Hotel and Conference Centre in Johannesburg South Africa..