Lafarge Zambia Plc has donated 1000 bags of cement to Habitat for Humanity Zambia for the construction of decent housing for the less fortunate in the country.
Lafarge Zambia Chief Executive Officer, Mr Vincent Bouckaert, presented the donation at a handover ceremony held at Habitat for Humanity Zambia offices in Lusaka.
In his remarks, Mr Bouckaert noted that Lafarge Zambia was committed to creating shared value within its communities of operation.
"Lafarge Zambia Plc is positioned as a brand that is responsible for all its stakeholders contributing effectively to improving the quality of life and social status of the members of its workforce, their families and communities around its operations," he said.
The Lafarge CEO said that the donation will go towards improving the lives of many vulnerable people living in deplorable and unsafe shelter.
He said the projection of the donation would see about 15 houses being constructed in Mapepe Compound in Chilanga district through a building initiative dabbed 'The Big Build'.
Mr Bouckaert noted that the Big Build programme would be speared headed by Habitat for Humanity Zambia with the support of Lafarge Zambia, Local Authorities and other cooperating partners.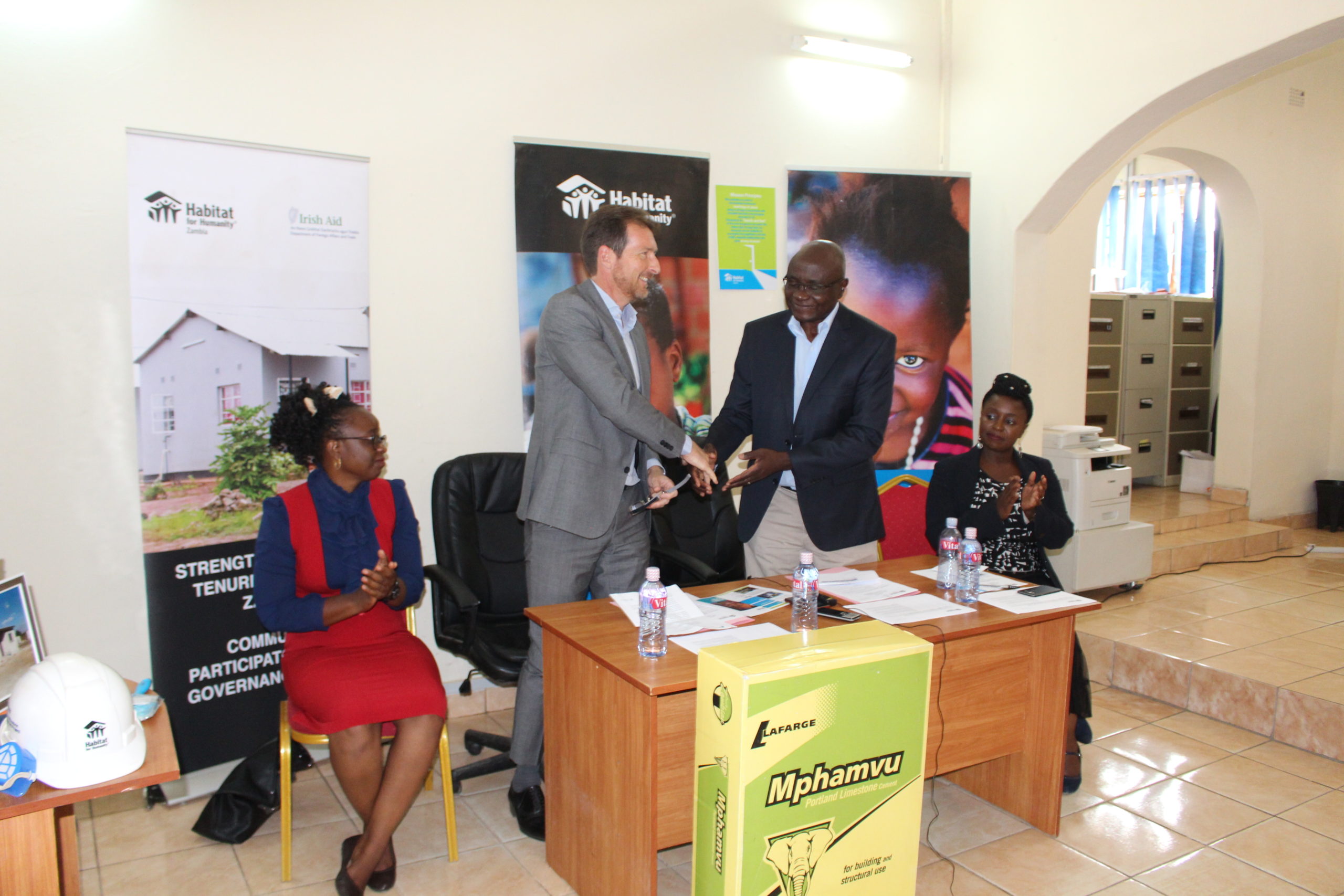 Meanwhile receiving the donation on behalf of Habitat for Humanity Zambia, National Director Kanyanta Mukelabai acknowledged Lafarge Zambia for the noble gesture shown towards ending poverty when it came to housing infrastructure.
He noted that providing decent shelter to the vulnerable was a matter of conscience and it greatly changed the lives of so many people.
"We cannot stand by the side- lines and watch as the less privileged in society continue to live in deplorable and sub- standard house structures," He said.
Mr Kanyanta said that decent housing was a basic human right and a prerequisite to building better, cleaner and healthier cities.
"This is envisaged under the aspirations of the Sustainable Development Goal number 11, which aims to build sustainable cities and communities by 2030," he expressed.
The National Director further noted that Lafarge Zambia had constructed two houses in Linda Township through the partnership with Habitat for Humanity and had participated in the Women's Build 2018, championed by the First Lady of the Republic of Zambia, Madam Esther Lungu.