As the world remembers the end of the First World War, Zambia is fighting to ensure that its role in the war is remembered. World leaders gathered in Paris on Nov. 11, Armistice Day, to honor the war's fallen soldiers.
Zambia, however, wants to change the narrative and location of these commemorations. On Nov. 25, Zambia's tourism agency plans to hold a commemoration of its own in Mbala, in the northeast of the country, close to the Tanzanian border.
The government also hopes attention to the region will "unlock the tourism and investment potential of Northern province." For now, a monument of stacked rocks with a plaque in the middle of a traffic roundabout marks the spot where the Great War ended.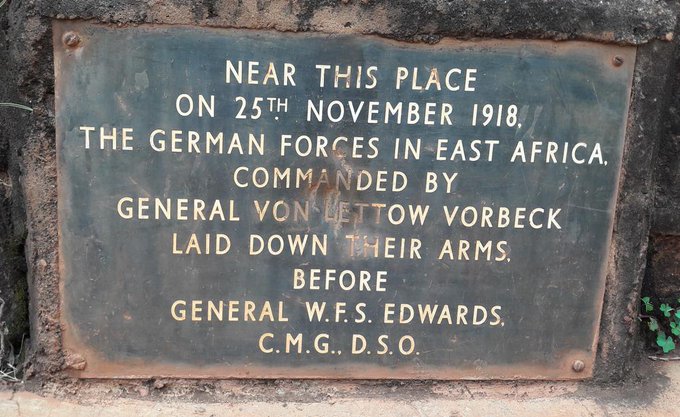 "It gives us an opportunity to tell our story, the forgotten story, that we played a part in the First World War and that it actually finished not at the 11th hour on the 11th day of the 11th month 1918 in Europe but at Abercorn, now Mbala, at the 12th hour on the 25th day of the 11th month 1918," the agency said on its website.
A century ago, the last of Germany's troops formally surrendered in Mbala. Lt-Col. Paul Emil von Lettow-Vorbeck, the man known as the Lion of Africa, continued to advance in East Africa with 3,000 Germans and 11,000 Africans in his force. He was planning further raids even after Germany surrendered on Nov. 11.
The telegram only arrived on Nov. 14, apparently delayed by celebrations in Kabwe, a town further south in the then Northern Rhodesia. after which Lettow-Vorbeck continued to march, arriving in Mbala, Zambia on 25 November to surrender.
Lettow-Vorbeck's grandson is expected to attend the Zambian festivities, along with delegates from France, Russia and African countries who particiapted in World War I. Nearly two million Africans were involved in World War 1, yet common historical accounts and subsequent commemorations have erased their sacrifice.
Some historians argue that the first shot of World War I may also have been fired in Africa. According to one account, the British Gold Coast regiment (from today's Ghana) marched into what was then known as Togoland, a German colony. They fired the first shot on August 7, aimed at German police as they advanced on the capital Lomé.
When the war ended, Africans were reminded that they had no power, even though some held guns for their colonial leaders. They were denied representation at the Treat of Versailles and Germany's colonies were divided among the victors, with no input from the millions of Africans impacted.