Female gospel artist Christine 'Malembe' has vowed to work hard in her music so as to minister to more people.
The artist, whose real name is Christine Nkole Chigande said she considers music to be an effective tool in preaching the word of God to mass audiences.
Having started her music career with Potiphar's band and later joining Kings Malembe Malembe's, the celebrated artist said her desire to extend the impact of her music led to her parting ways with the latter.
"I parted ways with Kings Malembe Malembe because I needed more time to pursue my personal projects as Christine, and now I want to push my music to reach the intended international target," she said.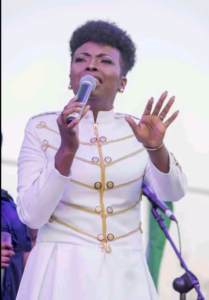 However, Christine told Lusaka Star Online that she saw the need for her to stand on her own and amplify her efforts by coming up with a band which currently has 25 members.
Christine also disclosed that her band not only comprises of backing vocalists, but also musicians who are talented in their own ways and have "better voices" than her.
The singer further said she has learnt to depend on God entirely in everything she does.
She believes that "despite people having the skills and rhythms to themselves but, real victory comes from God."
"As a ministry, we believe that it is not all about people dancing and clapping, but having a divine encounter with God whenever we are performing," she added.
Christine who describes herself as one person who is "real, crazy for God and ever smiling" said she finds fulfillment in working for God.
The artist also said she is Looking forward to working with fellow gospel artists Pompi and Magg 44 as well international gospel artist Sinach.
She said she will continue to promote her recent album Blessed which was released in December last year.
And Kelvin Mweene, Christine's producer said working with Christine has been an awesome experience.
The producer who has been producing songs for Christine since day one said the two have a "beautiful relationship" because he was raised by Christine's parents.
He said the team is working hard at the moment to ensure that her blessed album goes viral and he urged Zambian musicians to take keen interest in producing quality music in this modern era because people are able to tell the difference between good and bad music.
Christine appeared on the Zambian music scene following her feature in Kings Malembe Malembe's hit song Nimwe Lesa.