THE Zambia Under 20 National Rugby Team held on to a 14-12 slender scoreline to clinch their maiden Barthes' Group C trophy against hosts Uganda at Kampala's Kyandondo Rugby Club.
One try by Red Arrows Rugby winger George Mwamba plus 3 penalties was all Zambia needed to lay claim to a trophy that has eluded them in the Country's rugby history.
Zambia now joins Tunisia, Ivory Coast and fellow Southern Africans Zimbabwe in the 2020 edition of Group B Junior championship.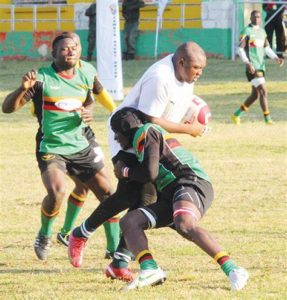 Uganda's game against Zambia was expected to be bitterly contested from the word go but it wasn't to be, much to the disappointment of local fans and spectators.
The visitors registered their intentions with an 11-nil scoreline at halftime, however, the hosts responded with a vicious comeback from the break which almost saw them carrying the day.
When the final whistle blew, it was Zambia who had carried the day with a minimal but meaningful win of 14-12.
Meanwhile, Zambia Rugby Union President Clement Sinkamba has congratulated the team for the victory recorded.
"When seeking re-election earlier this year we made a commitment to ensure the Programs, Strategies and Measures aimed at Zambia's continued presence at Regional, Continental and International Tournaments are enhanced," he said.
He said it was usually exciting to report success to Councilors, Fans and the Country as a whole and that the trophy and achievement were dedicated to the sponsors Country Choice Chicken, Namibian Breweries, Mopani Copper Mines, Manzi-Valley, to name but a few.
"Our sport has been making very good headlines over the past couple of years and a number of individuals and organizations have done a lot to make this," he said.
Mr Sinkamba said that a number of individuals had also done a lot to ensure camping, transport; feeding and other logistical support were taken care of.