Former Chipolopolo coach Wedson Nyirenda
South African PSL club Baroka FC have confirmed Wedson Nyirenda as head coach.
This development follows Nyirenda's decision to resign as Chipolopolo coach after serving as national team coach from September 2016 to May 2018.
Baroka FC Chief Executive Officer (CEO) Morgan Mammila had earlier said the club had not signed any contract with Nyirenda but the club has now confirmed the former chipolopolo coach as its new coach.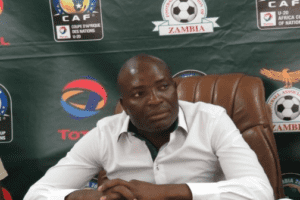 Baroka FC owner Khurishi Mphahlele told the Sowetan Newspaper that Nyirenda is the man who will be taking up the team as from the upcoming season.
He further added that they had agreed a two-year deal with another one year option.
This is Nyirenda's third foreign club stop after taking in Mozambique at HCB Songo in 2013 and Ferroviario Beira prior to taking over the Chipolopolo job in September, 2016.
Baroka, who were promoted in 2015, finished third from bottom last season at number 14.